Air conditioners are an essential part of living in Australia; they help us live more comfortably in both the summer and winter months. Running them throughout these months can be costly, but if you are experiencing unusually high energy bills it could be due to the age of your system. It might be time to look at ducted air conditioning replacement units.
Save money by replacing your existing air conditioner
If you are running an old ducted air conditioning unit your energy bills can be significantly higher and you may also face costly repair bills. Replacing your existing ducted air conditioning system with a new Samsung high efficiency inverter will reduce your energy bills and will save you lots of money every year.
You may be worried about the cost of replacing your existing air conditioner, however in the long term you will be saving your self hundreds to thousands of dollars every year on running and repair costs.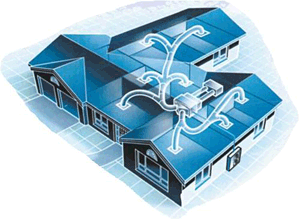 Samsung Ducted Reverse Cycle Air Conditioning Inverter
At Factory Direct Home Air Conditioning we believe ducted reverse cycle air conditioners are the ultimate systems for comfort. We supply and install high efficiency units to changeover your existing air conditioner, saving you money on energy bills and repair costs. Samsung ducted reverse cycle air conditioners are quiet, highly efficient and easy to maintain, making them the ideal choice for your changeover.
What's included in the air conditioning replacement unit?
Our price includes the complete removal of your existing ducted air conditioning unit and the supply and installation of a replacement Samsung ducted high efficiency inverter. We will provide you with a new indoor fan unit, outdoor condensing unit, new refrigeration pipes and control wiring. A new control panel will be fitted to replace your exiting one, plus we will include the ducting transition to suit the new fan coil.
Replacing the zones or flexible ducting is not included in these prices.
Air conditioning replacement unit products and prices
Option 1
7kw system
Fully Installed $5,190

Option 2
10kw system
Fully Installed $5,890

Option 3
12.5 kw system
Fully Installed $6,390

Option 4
14kw system
Fully Installed $6,850

Option 5
16kw system
Fully Installed $7,590

What's Next
If you are interested we will conduct a site visit to confirm the details and take an order.
No deposit is required.
We will arrange a convenient date for the installation.
Our tradesmen will arrive at 8am. and your old system will be decommissioned.
Dust sheets will be placed on your floors.
We will remove your old A/C units from inside the roof and outside the house.
We will remove the old refrigeration pipes and electrical components.
The new indoor unit will be located in your roof space and connected to your existing ducting.
The new outdoor unit will be located in a position as instructed by the owner.
New refrigeration pipes will be installed and a protective capping fitted if required. A new Samsung wall control will be fitted.
The new system will be commissioned and tested.
You will be instructed on how to use the new system. Please note that the Samsung wall controller is back lit and very easy to use.
Our tradesmen will tidy up and remove all rubbish.
There will be no extra or hidden costs.
Your invoice will be emailed or posted to you and payment terms are " Full payment within 7 days " .
These air-con units are covered by a 5 year warranty – the installation is guaranteed for 5 years and the components are guaranteed for 20 years. Our payment terms are no deposit and we require full payment on completion. These prices are subject to site inspection.
To keep your energy bills down and make sure your current system is running efficiently it's important to regularly maintain your air conditioning unit.
Testimonial
"We are writing to congratulate you and your installation team on their fantastic customer service.
Having one old air-conditioner removed and a replacement air-conditioning system installed can be a massive 'upheaval'.
However, your installation team showed the utmost respect to us and our property and there was minimal mess mainly due to the conscientiousness of your guys' work ethic. We particularly appreciated the plastic box under where the ceiling holes were being cut in! Even at the end, in the rain, they cleaned and removed all the rubbish, packaging, boxes etc.
The autumn weather has only enabled us to try the air-conditioner just a little while but it is works beautifully and you can be assured we will recommend you to friends and family for their air-conditioning needs."
– Sally & Neville Clarke
Contact Us for a Free Quote
Looking for the ultimate solution for year round comfort? Contact us for a no obligation quote and the best prices in Adelaide.